It's ju
st incomprehensible how hard to put things in writing when you have so much to say. This is what I am struggling right now.

Every time I browse through the net, going blog-hunting, I realise that the world is filled with so many people with interesting lives and experiences. Talking about fruitful and successful lives...oh, just how I wish I would someday be like them!

I've captured a picture of a tomato with a unique shape. It's not the usual round or oval shape. I should say it looks like two 2/3 of tomatoes sticking to each other. I desperately wanted to post it here, but there's a glitch somewhere.

Anyway, you had the idea how it looked like:)

Had just started reading HP6 (yeah, I know I am outdated!). As I've completely (well, almost) forgotten what happened in Book Five, I struggled in remembering some personalities in the content.

I suddenly felt all my memories in school came back to me in a flash. It makes me think of my dearest chums and strict teachers who cares about nothing but decent behaviour of students in school.

Life was sweet then. How come I didn't realise it before? I do wonder, will life in future ever be as sweet as that..hopefully sweeter.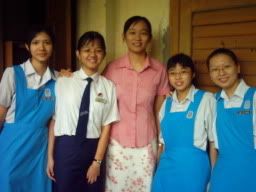 It's so great to know you guys!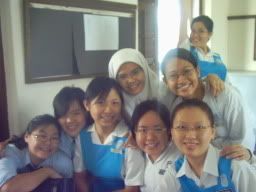 At long last, I finally locate the birthday cake. I love the candle arrangements.:)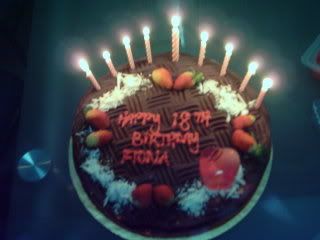 Delicious moist chocolate cake!

Birthdays are sweet with sweet cakes.